Accessibility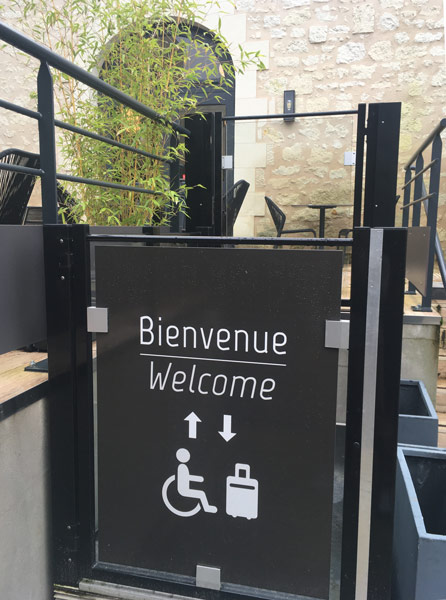 Desiring to welcome as many people as possible, Charlotte and François have long thought about the possibility of making the hotel accessible to everyone.
Since 2017, it's been done!
10 spaces in our private car park (including 1 dedicated to people with reduced mobility) allow direct access to the hotel by the lift which connects the car park to the hotel terrace and thus to the reception.
4 beautiful bedrooms have been fitted out on this level, all with private terraces, 2 of which are accessible to disabled people.
On the other hand, as you have probably read in the history of the hotel, it was founded in 1837. However, it was not until 1845 that Sir William Thompson developed the first hydraulic lift and it will take even wait until 1852 to see the first secure "elevator" with the invention of Elisha Graves Otis.
Despite the enlargement of the hotel at the end of the 2017th century, this object of our daily life was not integrated and the extension of XNUMX did not allow us to envisage a service of the floors by elevator. The hotel does not (yet) have an elevator.
BUT IT CANNOT LATE! MARS 2023 will signify the arrival of this element oh how object of your satisfaction. I let you discover it in pictures...
In the meantime, we are happy to help you carry your luggage upstairs and if you have difficulty understanding the steps, please let us know AT RESERVATION to benefit from the comfort of the 4 bedrooms on the ground floor.