THE SQUARE OF LONDON ... anecdote and riddle!
THE SQUARE OF LONDON ... anecdote and riddle!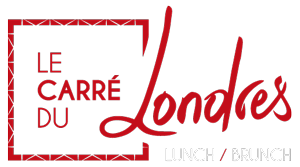 On the menu of this newsletter: anecdote and riddle ... There are 15 days, a nice customer called us worried not to see a jar of meat on the menu ... it makes me hot to see that my newsletter is read and scrutinized and gives you mouth watering . Thank you kind customer! Enjoy the menu of this fortnight, always on top! Zoom sure… a riddle... News on the Horse in Saumur (surprising?) and with the What's up, give yourself fun on the terrace!

Bon Appétit gourmand

The SQUARE of LONDON
Fresh & local jars concept
Open daily
From 12h to 16h30

ON SITE OR TO TAKE AWAY
Hot or cold


OPEN
7 days on 7

BRUNCH
every Sunday !
11h30-15h

Caviar of oyster mushrooms from Puy Notre-Dame, garlic crostini
Jerusalem artichoke hummus, marinated gambas with citrus fruits
Goat cheese rolls with Bayonne ham, gooseberry chutney



Trout fillet, couscous pearls with basil & lime, caper sauce
Fluffy chicken with satay sauce, Indian vegetables & wild rice
Risotto with chorizo, fried green pepper, tomato velvet
Parmentier sweet potatoes with almond milk and coriander, organic lentils
VEGETARIAN - gluten free - lactose free

Lemon Cheesecake, julienne of candied lemon
Flan with caramelized apples and cardamom, sultanas and picking grapes
Opera way Ladies

Zoom on ... riddle: do you know this vegetable?

I help you: also called artichoke of Jerusalem, truffle from Canada ou perennial sun... easy no?

Well it is the Jerusalem artichoke ! Not necessarily well known, I grant you.

Imagine that the species belongs to the same genus as the sunflower. It is grown for its edible tubers.

The Jerusalem artichoke is actually native to North America where it was cultivated by Native American tribes well before the arrival of the Europeans, "a kind of root, big ship or truffle" - hence its other name "Truffle of Canada" ". Its spread in Europe is developing rapidly thanks to its easy cultivation, its hardiness and its high vegetative multiplication, even in poor soils.

During the Second World War, its consumption increased, because the Jerusalem artichoke, like the rutabaga, is not requisitioned for war indemnities to pay to Germany - unlike the potato.

Jerusalem artichokes have long had a bad reputation: used to feed livestock or associated with food shortage and war memories. But at the beginning of the twenty-first century, this tuber raises a renewed interest in the craze for forgotten vegetables. It is notably rehabilitated by chefs and on markets where it is sometimes sold under the name of "artichoke of Jerusalem".

The tubers are eaten cooked in various ways: salad, hot side, fried, mashed, donuts, sauteed butter, etc ... They can also be eaten raw, grated or cut into slices, as raw vegetables in the Vinaigrette. Their flavor is similar to that of artichoke bottoms or salsify.

They contain many vitamins, including A, C and B3, mineral salts, such as potassium, and carbohydrates, mostly in the form of inulin, making it a fairly nutritious low in calories. Inulin is not assimilated in the small intestine, it is a prebiotic metabolized by the bacteria of the large intestine and can cause flatulence ... there are not always advantages in vegetables that I present to you but still !

As for the explanation of its 3ème name "perennial sun" ... the answer is in the photo at the top of this newsletter ...

The beautiful month of May ... on horseback in Saumur! 2 must-attend events at 1 week apart ...

Gala of the Black Frame:

The Printemps des Ecuyers


10 years after their last meeting, the Cadre Noir de Saumur joins the prestigious Portuguese School of Equestrian Art to offer you an exceptional gala for this edition of Printemps des Ecuyers 18 & 19 may.

These 2 institutions will present the excellence of their work in a unique scenography. A rare encounter not to be missed ...

International Competition of Saumur

International and cultural equestrian sports event, Saumur Complete combines complete horse-riding competitions, hiking to discover monumental works of art (Grand Air exhibition), nature races, exhibiting village, local market, empty upholstery, concerts & animations for all ages. It is outdoors and surrounded by nature ... ideal for recharging your batteries!

Appointment from 23 to 26 May

The beautiful days arrive ... the desires for lunch or have a drink on the terrace too! That's good because our south facing terrace you are open every day for lunch & Sunday BRUNCH and evenings for hotel guests ... fun in the rough or happiness at your fingertips!

Quiet and sunny in the heart of town.

---
You are subscribed to the London Square newsletter, if you want to leave us, Click here.