THE SQUARE OF LONDON at the heart of your emotions!
THE SQUARE OF LONDON at the heart of your emotions!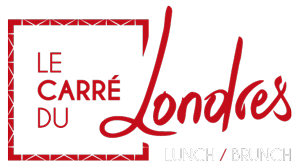 Every two weeks his surprises and his discoveries ... Who knows the farro ? To discover in risotto with a delicious dark place and in the Zoom below ... Unless you prefer a pork 5 spices & pineapple, our 3 best of starter or desserts while creating ... In Actu, Weekend of Aerobatics annual event rich in emotions and What's up the welcome of Kilian who makes us love life ...

Happy reading to all

The SQUARE of LONDON
Fresh & local jars concept
Open daily
From 12h to 16h30

ON SITE OR TO TAKE AWAY
Hot or cold


OPEN
7 days on 7

BRUNCH
every Sunday !
11h30-15h

Eggplant caviar, parmesan shavings and K dressing
Organic lentils with tarragon cream, bacon & perfect egg
Country terrine of Maison Ferchaud, red onion chutney and grapes

Filet of black locust, farro risotto & mushroom cream
Sautéed pork with 5 spices & pineapple, farfalle BIO
Endive quiche, honey & brie, puff pastry & green salad
Indian cereals, fried zucchini, carrot muslin
VEGETARIAN - gluten free - lactose free

Crémet d'Anjou of the Chef, blackcurrant mirror
Charlotte with pear and fig coulis
Baba K with orange, chocolate cream and tonka bean

Enjoy this menu EXCEPTIONALLY 3 weeks


Focus on the ... FARRO

Farro is a food of Italian origin, composed of grains of certain species of wheat, sold dried after cooking rendering them tender, but still crisp. Farro is an ethno-botanical term derived from Latin for three species of wheat : spelled, emmer, and the so-called small spelled engrain.

Sources of magnesium, Farro Spelled seeds are ancient, rustic and authentic seeds that can replace pasta and rice.
In addition to their nutritional virtues, they are very tasty and can be used in recipes like risotto (as we do this week!), In soup, in salad or as an accompaniment to your meat and fish.

As I can not tell you more about Farro spelled in the Province of Lucca, I'm going to expand my spelled section in general ...

ORIGINE Today, it is grown in southern Europe, especially in Italy, especially in the province of Lucca. The spelled of this region (Farro della Garfagnana) benefits from the PGI (Protected Geographical Indication) label. Since 2009, the "spelled of Haute-Provence", also benefits from the same IGP label. As for large spelled, it is now grown in the Walloon Region (Belgium) and France in the Paris Basin and in Burgundy.

ABOUT : the first mentions of this cereal are found in the Bible. She was known and cultivated in ancient Egypt. Ezekiel used it as an ingredient to make bread. The presence of spelled in Europe dates back to the end of the Stone Age. In the Middle Ages, the abbess Sainte Hildegarde von Bingen (1098-1179) makes us discover all the virtues of spelled through writings and recipes still applied by people wanting to eat healthy.

PROPERTIES : spelled is a cereal known for its nutritional and dietary qualities. It contains eight amino acids essential to the human body. Spelled is an excellent food for the effort thanks in part to its high protein and carbohydrate content, the latter promoting intestinal transit and stimulating the immune system to increase resistance to infections.

The little more we like: thanks to its deep roots, it can grow on very poor soils, little fertilized and very dry. In addition, it does not react to nitrogen-based chemical fertilizers, which has gradually pushed it away from conventional agriculture ... These reasons have made it cereal preferentially used in organic farming. CQFD ... you will elect it "starch favorite of my cooking"!

And now all you have to do is run to CARRE to taste it. Cooked wonderfully obviously, it has a taste just crunchy for which I cracked! Why not you ?

Saumur was chosen to host the final of the 2019 Equestrian Riding World Cup.

Three evenings of an exceptional competition reserved for 6 best flutters and acrobats & 6 best pas-de-deux of the world. This final is held in parallel with the International Voltige Competition, which traditionally takes place in Saumur during the Easter weekend.

2 good reasons to look for your eggs, rabbits and other bells in Pays saumurois this year. The Equestrian Committee gives you appointment of the 18 at 21 April at the National School of Riding.

Info point : the acrobat mix emotions, dance & show, all on a horse in motion. These competitions are, for the public, real breathtaking shows. It is also the equestrian discipline that has brought France the most medals in recent years.

This 31th edition of Saumur Voltige promises to be rich in emotions and promises to live unforgettable sporting moments!

What events that make sense of our job!
After Titouan and his orange runners, last week we welcomed Kilian (and his dad) who came to realize his dream ... Worn by the Association Little Princes, he dreamed of spending 2 days with the French Army. Students of St. Cyr at the end of training having to organize a charitable project for their gala, they turned to this association and Kilian was all for them. So they organized 2 dream days between tanks, simulators & a visit to the Armor Museum in combat gear!

Do not ask me why, they had the good taste to choose The London for their 2 bruns. It was a beautiful meeting rich in emotions and sharing. Thanks to them !

Below, presentation of the association and link to their site.

Since 1987, the Petits Princes Association has been fulfilling the dreams of critically ill children and adolescents with cancer, leukemia or certain genetic diseases.

By living his passions and realizing his dreams, the child finds extra energy to fight the disease.

The Association does not limit its interventions to the realization of a single dream. In connection with 150 hospital services throughout France, several dreams can be organized for the same child around his passions, according to the evolution of his pathology.

Since 1987, more than 7000 dreams have been realized.
Every day, a child's dream is realized.
www.petitsprinces.com

---
You are subscribed to the London Square newsletter, if you want to leave us, Click here.