THE SQUARE OF LONDON is celebrating an anniversary!
THE SQUARE OF LONDON is celebrating an anniversary!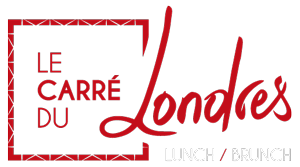 Parmentier, blanquette, Risotto, smoked herring, sausage, crumble, Tiramisu... that words that we adore that are sublimated by quality products ! See you at CARRE! The Turmeric must be honored in our Zoom. Let's celebrate the 1 years of London's BRUNCH and then we walk in Flea markets and other chips every Sunday ! Happy reading to all.

The SQUARE of LONDON
Fresh & local jars concept
Open daily
From 12h to 16h30

ON SITE OR TO TAKE AWAY
Hot or cold


OPEN
7 days on 7

BRUNCH
every Sunday !
11h30-15h

Panna Cotta peas and mint, ricotta & turmeric
Smoked herring mousse and gingerbread crostini
Peasant salad, garlic sausage, peasant potatoes and K dressing

Codmeal and sweet potato
Blanquette of poultry, vichy carrots
Risotto with black olives and sundried tomatoes, arugula and parmesan pesto
Fricassee of mushrooms & squash, organic green lentils with coconut milk
GLUTEN FREE - NO Lactose

Crumble of apples and blackcurrant berries
Chocolate ganache and pineapple jelly
Coffee Tiramisu

but also ... black locust, curry, sweet / salty pig cheeks, lentil soup, clementines ...

Zoom on ... the CURCUMA

So well known and recognized, I am surprised not to have told you its virtues yet! Turmeric is a perennial whose rhizome is eaten, which gives us the well-known spice. We use it to faith as condiment, as a colorant and as a medicinal plant with therapeutic properties.

It is a spice used in India for more than 4000 years. Very much used in Indian cuisine, it is considered a sacred and auspicious spice.
It is a powerful dye that can easily stain clothes and that goes into the composition of curry. Turmeric is also used to dye the robes of bonzes.
Although turmeric is sometimes called Indian saffron or poor man's saffron, saffron and turmeric are two totally different spices. However, turmeric often replaces saffron in dishes to color them ...

In the kitchen…
It is the same family as ginger and cardamom, zingiberaceae. It is the basic ingredient of the most famous blends in the world of cooking such as Colombo and Curry.
Turmeric has a warm but sweet flavor, it can be used in all dishesdo not hesitate to put everywhere. We can even surprisingly put in desserts such as: half a teaspoon in your pancake or waffle batter.
In root, you can put a piece in your teas and infusions (accompanied by a pepper is even better to taste and for your health!).

And for health precisely ...
There are innumerable turmeric properties, mainly in Ayurvedic medicine, so it is important to remember that this is not a medicine but part of a lifestyle!
Here are some good reasons, besides its taste properties, to buy turmeric.
Curcumin, its active ingredient a powerful antioxidant which protects the body from cellular damage caused by free radicals. It also acts in multiple ways on chronic, articular and digestive inflammation.
It should be known that the antioxidant properties and anti-inflammatoryCurcumin is increased tenfold when mixed with piperine, the active ingredient in pepper. It would have a preventive effect on Alzheimer's disease.
It's finally an excellent antiseptic et healing. It is used to treat stomach ulcers and to protect the liver. It's a antimicrobial natural.

This is just a glimpse of the virtues of turmeric, the research discovers every day new reasons to incorporate it into your recipes! From our side, we started!

Winter is also the period of bric-a-brac and garage-sale in brittany... every weekend, find a destination that will make you have a good time, remember memories and why not treat yourself!

The regular 2: the famous Puces de Montsoreau, every second Sunday of the month ... for more than 27 years! 80 professionals of the flea market and antiquity. But also Flea market theater in Saumur, every fourth Sunday of the month through the streets of downtown.

We have the pleasure of celebrating the 1 years ... London BRUNCH! A beautiful and good time that took place in the landscape of the Saumur region where every Sunday, regulars, novices, brits, angels and even more-more-less, guests of the hotel or not come to feast and ask .

Always the fresh products of the breakfast, pastries of La Duchesse Anne, chopsticks and fresh bread of Joseph, scrambled eggs, bacon, white pudding of our charcutier artisanal, fresh fruits of the market, milkings of the Douche Angevines, trays of salmon, cold meats , cheeses, homemade salad, muesli bar, homemade pancakes, jams from Flo's Delights, honeys from Maison Girard and I obviously can not name everything ... but I will not forget to finish with the jars of Jean-Pierre that come close this moment in beauty!

On reservation at 02.41.51.23.98 - 11h30 / 15h - 24 € adults, 14 € less than 12 years.

---
You are subscribed to the London Square newsletter, if you want to leave us, Click here.