THE SQUARE OF LONDON ... of gluttony in the state of Love!
THE SQUARE OF LONDON ... of gluttony in the state of Love!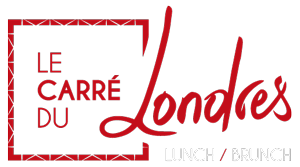 Who said that " Greed is a bad thing " ? Me, I do not agree at all !! Because here, gluttony is a sign ofLove, generosity, sharing, pleasure, she is reassuring and friendly, inventive and traveler, TRUE! It is the image of our Chef Jean-Pierre KAUSZ that I present to you in the Zoom on... Treat yourself once again with our menu to discover below. The News propose you to take a date with thees National Book and Wine Days and in the What's New in London, a very special favorite for Titouan and the association COURIR AVEC who crossed the Winter Garden for the SaumurbanTrail ...

Happy reading to all !

The SQUARE of LONDON
Fresh & local jars concept
Open daily
From 12h to 16h30

ON SITE OR TO TAKE AWAY
Hot or cold


OPEN
7 days on 7

BRUNCH
every Sunday !
11h30-15h

Pumpkin soup with ginger, garlic croutons & parsley
Duck confit salad, coriander, angel hair
and black bean vinaigrette and Chili
Sardine Rillettes with Fresh Cheese and Herbs, Sarrazin Triangle



Fillet of hake, braised fennel, pasta "bird tongues",
red pepper sauce and lemon
Beef tongue with mustard and gherkin,
potato purée mode Robuchon
Risotto with peas and mint, parmesan shavings
Stewed with red cabbage, quinoa, goat slice, caramel spice
VEGETARIAN - gluten free - lactose free

Poached apple with vanilla, homemade caramel & vanilla ice cream
Chocolate fondant, fresh cream with orange
Panna Cotta with apricot & basil, puff pastry with poppy seeds

But by the way, do you know those who are hiding behind your good jars and Le CARRE du Londres? We decided to introduce ourselves to you in the coming months ... and start with the one without whom the adventure would not be so delicious ...

Focus on ... our Chef Jean-Pierre KAUSZ

This man lives in the heart of a bubbling of desires and actions.

Originally from Lille, of a multiple family: his blind father and piano tuner, having also tuned his heart several times, gave him 9 brothers and sisters. Her mother, a teacher, does not have time to cook until Sunday, Sunday, on the coal stove. His 1ère culinary experience: towards 10 years, at a birthday, he venturously embarks on the making of a large quantity of pancakes. Success! Everyone is happy and he too. Delighted to have pleased, it is there that the desire is born to make others happy by feeding them.

A first professional discovery at a pastry shop could have discouraged him, it was not counting on his character ... he comes out of learning in the kitchen at 17 years and will be Chef at 21 years, gifted! He toured the beautiful houses of Lille to the Alliance Hotel, went up to the headquarters of the "Great French Steps", went from castle to castle to finish the Group's Chief Executive. A choice of "quality of life" (if one can say in this business) and the desire to find the ground, the taste of freedom, the thirst to prove something again urge him to embark on buy a restaurant and grow it. It will be Nantes during 7 years. With this 1er success, it is getting closer to the Loire and chooses the river for new challenges and making things happen. In 2003 it sets up a "menu map" to give the opportunity to its customers to have fun by "traveling at the right price". Because his desire is always the same: to please. Cooking is for him an act of sharing, of generosity, of love in 1 word. And it is also why he is attached to a reassuring kitchen, family but at the same time inventive and traveling. Jean-Pierre also makes us aware that our food must come from the soil that surrounds us as closely as possible and not forget the role played by the farmers of our regions in this vital process, "the cook is nothing without the farmer" .

In parallel with his restaurant, meeting place and gastronomic pleasures, it is more than 10 years that he polishes his kitchen in jars. Far from all those who compose the current fashion, in his own we find this honesty whole proposal gourmet mouling all his ideas (oh how many) seasoning, sauces, dressage, specializing in cooking methods slow but also playing with the colors that fascinate him. Beyond being good, her jars are also beautiful.

Last touch on the board, he specifies that the more he is attentive & concentrated in the work of the product, the better the result will be. That "the field of conscience of the cook undeniably acts on the taste of the prepared dish". His culinary research is a reflection of the need for truth in his life. Passionate about the richness of each one of us, he never stops looking for who he is and sends us back to the need to be self, who is quick to advise us to open our eyes and dare to look at life well in front. More than a cook or a Chef, he is a passionate and passionate man that we find in the complexity of his jars. We will taste them now with our 5 sense, but add the heart! Thank you Mr. Jean-Pierre.

Text strongly inspired by the Editorial of Clarisse Poisson
Excerpt from KP Kausz's cookbook
whose photo cover you can find on the top

This News may seem far but the season resumed, the events will multiply ... Or I like to remind you of this event a little exceptional & one of a kind : National Days of Books and Wine.

Representatives of the literary and wine world (writers, critics, winegrowers, oenologists, sommeliers) and personalities from the entertainment world will meet 13 and 14 April 2019 in the heart of the city of Saumur to celebrate the 24th edition of the National Days of the Book and the Wine placed under the theme of "Femininity".

In the last Newsletter, I announced you the passage of SaumurbanTrail through the London Winter Garden. A beautiful sporty and friendly moment summarized in a few shots below. But what I want to share with you today is the passage of Titouan and all his beautiful runners orange. Moment of emotion that gave me the sudden desire to immortalize them and ask them to explain their reason for being. Story below.

« The March 10 was a first for our Run With Association. Accompanied by Titouan, we participated in the 16 km of the 6eme edition of Saumurbantrail.

The association is based in Loire-Atlantique. It brings together runners who all have the same motivation: to allow young people with disabilities to participate in all kinds of races in the West (Trail, marathon, raid ..). We are celebrating the 10 years of the association this year. Young people are installed in a joelette, named after its creator, surrounded by runners who take turns. It is a wheelchair that can pass in all places, even difficult. These races are always full of emotions, seeing the smile of children, we can run for hours.

Each year, the association takes for one week young people, without their parents, in raid abroad (Mali, Morocco, Ireland, Portugal, Sardinia, Montenegro). The next raid is scheduled for October 2019, in Corsica, for the Corsica Coast Race, running 130 km with 6 children. Runners will be responsible for a child, a medical team and another technique allow us to make this trip. Originally from Saumur, with my husband, we have already participated in Saumurbantrail and wanted to make it known to the association.

We would like to thank the organizers, especially the Solutions Office for their understanding. During the race we received a lot of encouragement from spectators, volunteers and runners. Thanks to them.

Our runners appreciated the course and the different sites crossed, even the 102 steps of the Dome did not scare them! "

For further information: Hervé Brin - 06 07 65 05 21 -

http://courir-avec.fr - facebook: courir avec

---
You are subscribed to the London Square newsletter, if you want to leave us, Click here.